Home Teeth Whitening
Having a perfectly white set of teeth can greatly boost your self-esteem. If you have always wanted a brighter set of teeth, this is for you. It can be done easily — safely, and in the comfort of your own home, you can now bring your dreams of a perfect white set of teeth to reality.
All you need to do is select some out of the varieties of peroxide-based whitening treatments which you can get from your dentist office or over the counter in a pharmacy.
So, are you ready to transform your dull, shy smile into a wide, eye-catching one?
BENEFITS OF HOME TEETH WHITENING
Home whitening treatment comes with a safe guide which you can follow. If you have a fear of bleeding gums or damaged enamels, do follow our guide from Smile Works Dental. We have a procedure enlisted which you can follow, and get your results in no time.
If cost is one of the reasons why you are yet to get your teeth whitening procedures. Then this service is for you as it is affordable. With low-cost materials ranging from £4 to £100, you can get these products and have your desired results in no time. An in-office treatment from our dentists cost £300, while our dentist home treatment cost £150.
If you use our home teeth whitening treatment faithfully at least once in 6 months, the results you will get will be excellent. Our teeth treatment lasts long, though you may have to keep up with a regular check-up for badly stained teeth. You may also have to repeat the procedure more than once in 6 months.
We have a large variety of items you can use, ranging from strips to gels. You can choose the one most convenient for you and start using it for the best result. Choosing when and how you want to carry out your teeth whitening treatment is up to you. If you get busy always, you can fit our five minutes whitening strip treatment into your schedule. We have lots of treatments at varying time intervals.
THINGS TO NOTE WHEN USING HOME TEETH WHITENING
Always follow instructions
Experts have proved our procedures, and all you need to do is to ensure you follow these procedures. Ensure that you carefully read through the guide and also carefully follow the instructions.
Always brush and floss before applying a whitening product
Our whitening products at Smile Works Dental are more effective after proper brushing and flossing. It is best if you get an appropriate dental floss by an expert before using these products.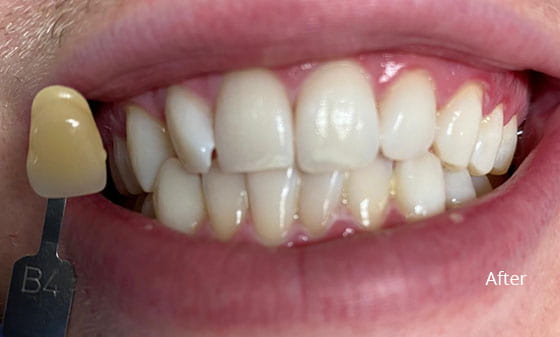 Wait for some time before eating or drinking
Immediately after your home teeth whitening process, you are advised to wait for at least 2 hours before engaging the teeth again.
Avoid misusing the products
Use only the amount specified and nothing more. If you overuse a product, it could have adverse effects on your teeth like chalky teeth, discoloured teeth, or cause gum irritation.
CONTACT US
Our dentists are providing excellent home teeth whitening treatments.
Book an Appointment TODAY!
020 71834091
Book Online Now